11.27.2009
| | | | |
| --- | --- | --- | --- |
| Click for larger version | Click for larger version | Click for larger version | Press Release - Tina Elmergreen appointed to leadership role Bridging the Gap - 2012 London - England Olympic Outreach |
9.1.2009
in2it international and MB Entertainment of Las Vegas, Nevada - USA will be producing a "Night of Healing & Miracles" this coming Saturday at the Thomas & Mack Arena in Las Vegas. This event is part of Prophet Amado's USA crusade as he emabarks on a journey to touch many....Don't miss it! * If you cannot attend, tune into your local listings and watch it in the comfort of your home. It will be airing live on TBN Enlace world-wide.

Click on image for a larger view.
8.31.2009
in2it international is contracted as an "Official" - iTunes Apple Associate Producer to what is reported in being "one" of only "12", Apple Producers in the world. Most of you are already familiar with Apple/iTunes, but those of you who are not - imagine that 9O% of all music sold in the world is done so in "one" place! This is iTunes and it is true not only for music but all audion content worldwide! Every week, there are 2 Billion unique viewers in iTunes.

For more information, go to the in2it international website.
7.4.2009
Below are 4 photos from this year Summerfest Salsa Stage on July 4th. To see all the photos of this years Summerfest, please click here!
6.24.2009
Get ready to "Salsa @ Summerfest" - 2009



Summerfest continues to "aim to please" and another year is upon us and drawing near! The "World's Largest Music Festival" serves up "Salsa @ Summerfest" on July 4th. Bring the family it will be a great way to celebrate the holiday which will indeed include fireworks!

This year the headlining slot is a show in itself with four of our long-time favorites: Nino Segarra, Tito Allen, Ray Sepulveda and Jose Alberto Canario "El Canario"! Also, world -renown Producer – "Ricky Gonzalez" is directing the show so you are in for some phenomenal performances. To top things off, we have some great local favorites throughout the day leading up to another great group "Jesus Enriquez" kicking things off for the headliners. For a complete listing of all summerfest entertainment, go to: www.summerfest.com for more information. Be sure to scroll all the way down to view this year's flyer!
In case you haven't heard, the Latin Cultural Alliance, Inc. opened up an office in Dallas, Texas. They have partnered with MCA Global and in result, the Latin Music Fest/Latin Christian Music Fest will be world-wide in 2010! Currently "Country Hosts" are in position to facilitate the festival in over eleven countries. Efforts are also underway in syndicating "Sabor Latino" and Cristo "The Rock" radio programs. As always, you can keep up with the LCA by logging onto www.latinmusicfest.com . You will find regular postings are under the "News" tab and Radio tabs. Keep the MCA Global address handy as well: www.mca-global.com


LCA would like to congratulate our Music Director – Pavel Polanco-Safadit on "one of" his latest accomplishments – Kapitulo 1 - Indy's most sought after Latin music group specializing in "Bachata" of course! This Dominican born music thoroughbred always delivers the best in what he does. To listen to sample of the usic, click on to the MP3 links below or go to: www.pavelmusic.net

Click on the links below to listen to music from Pavel Polanco's Kapitulo 1:
5.31.2009
LP Artist Giovanni Hidalgo, Portrait of a Master
LP is pleased to announce that LP artist and master percussionist, Giovanni Hidalgo was the highlight of the 19th Annual Puerto Rico Jazz Festival. At the finale concert on Sunday, May 31st, the festival director, accompanied by Latin legend, Eddie Palmieri, presented Giovanni Hidalgo with an honorary portrait. Giovanni, a veteran of the inaugural Puerto Rico Jazz Festival with five performances under his belt over the past years, was humbled by the gesture and the thunderous applause.

A founding member of the sensational Puerto Rican Latin jazz/folkloric band Batacumbele, Giovanni Hidalgo was new school, the player to watch. He'd absorbed concepts born of Cubans Tata Güines and Changuito and pushed them to new heights. In terms of his stunning technique alone, Giovanni remains one of the greatest!

The mood was electric this year as Giovanni's band performed at the finale concert. The 3000-plus crowd spilled over the confines of the Tito Puente Amphitheater onto adjacent lawns. Giovanni was in fine form on his signature LP Giovanni Palladium Series Congas, spurred on by the intensity of master timbalero, Tito De Gracia who played his signature LP Tito De Gracia Timbales. Then the spotlights drew all eyes to a performer who'd just taken the stage: Giovanni's father, Mañengue, a legend in his own right!

Among the other LP endorsers who performed and/or were honored were Pedrito Martinez & Robby Ameen with Conrad Herwig, Little Johnny Rivero & Orlando Vega with Eddie Palmieri, and Marcos Ayala with The Berklee College of Music Band. In addition, Fidel Morales led the jam sessions after the concert, where Paoli Mejias, Gadwin Vargas, Tito De Gracia, Robby Ameen and Memo Acevedo performed.

"It was touching, really beautiful,"enthused LP education coordinator Guillermo "Memo" Acevedo, himself an acclaimed percussionist and recording artist. "To be in San Juan that night was really a privilege—it was unforgettable!"
Tribute to Master Percussionist Manny Oquendo JANUARY 1, 1932 - MARCH 25, 2009
Latin Percussion has had a long illustrious history of having been associated with some of the greatest pioneers in the history of percussion. They are what inspired Martin Cohen to give birth to the company and what give voice to the instruments the company produces. Manny Oquendo was indeed one of those voices. Coming into prominence as a soloist on timbales during the early 60's with pianist Eddie Palmieri's La Perfecta, Manny was the leader for 35 years of Manny Oquendo & Libre where he thrilled audiences not only with his timbale solos, but also with his bongo playing. On both instruments Maestro Oquendo firmly based his playing in the tradition of being understated with restraint, a style which served two purposes, by first serving the band as an accompanist and second, inspiring the dancers.

Manny was one of the pioneers of Latin music, and he was instrumental in formulating, and propagating the deep well of vocabulary for the rhythmic language we utilize today. A language that is so complex that it took a master like Manny to show us how to really speak it. The younger generation of players in their quest for the ultimate in technique, many times forget that it's not how much you say, but what you say. He reminded us how to speak clearly, concisely, with conviction, with pride in our culture, and most of all, la verdad, the truth. How could it not be when the person speaking to you was a true S.O.B. A son of Brooklyn, El Barrio, and Da' Bronx, José Manuel "Manny" Oquendo.
5.14.2009
Olga Tanon in Dallas
5.7.2009
Los Pecados de Maria in Dallas
2.28.2009
Enlace Telethon in Dallas - 02/2009
2.7.2009
2.6.2009
11.15.2008
2008 Latin Grammy Award Winner - Julieta Venegas at the Palladium in Dallas - 11.15.2008
11.13.2008
Victor Manuelle performs in Houston, TX for the 2008 Latin Grammy Events - 11.13.2008
10.16.2008
Luis Miguel at the Dallas Nokia Theatre 10-16-08
10.15.2008
.: LUIS FONSI is presented with gold and platinum sales awards for the #1 album "PALABRAS DEL SILENCIO" in the United States and Puerto Rico :.

Los Angeles, CA - October 15th, 2008 - After selling over 2 million albums throughout his career and following the huge success of his productions PASO A PASO (2005) and EXITOS 98:06 (2006) which reached platinum status in the United States and Puerto Rico and gold status in Spain, the Puerto Rican born singer, musician and songwriter LUIS FONSI is awarded GOLD and PLATINUM plaques for sales of more than 150,000 units of his current NUMBER ONE album "PALABRAS DEL SILENCIO". This has been the most successful album in LUIS FONSI'S career, breaking all his sales records in the United States, Puerto Rico and throughout Latin America. The first single "NO ME DOY POR VENCIDO" has also been an international success story; currently the single finds itself NUMBER ONE in United States, Puerto Rico, Mexico, Argentina, Chile and Central America and #2 in Colombia. In the U.S. FONSI has broken a personal record with "NO ME DOY POR VENCIDO", remaining at the number one spot for seven consecutive weeks on the BILLBOARD HOT LATIN SONGS.

"Palabras Del Silencio", was co-produced by a team of young, talented, and successful producers, all winners of Grammy awards, the Argentinean Sebastian Krys, the Mexican Armando Avila, and Spanish Jacobo Calderon. Luis Fonsi was also a co-producer of this album and vocal director. This is the first album of his career where all the songs were written or co-written by him and in conjunction with an impressive groups of authors including Amaury Gutierrez, Claudia Brant, Carlos Lara, Noel Schjaris, y Fernando Osorio among others.

For more information go to http://www.universalmusica.com/luisfonsi/Home.aspx
10.8.2008
Jorge Celedon & Jimmy Zambrano at 2009 in Dallas on 10-09-08.
9.28.2008
Jaci Velasquez performing at the "Sole'd Out" concert in Mesquite, Texas 2008 A benefit for "Shoes for the Orphans Souls" !
9.7.2008
Fonseca with Tina Backstage @ Conjuntos en Concierto Houston, TX - 09.07.08 Conjuntos en Concierto Houston, Texas - Marc Anthony, Alejandro Fernandez with Enrique Iglesias - 09.07.08
8.16.2008
Alejandro Fernandez live in concert - NokiaTheatre/ Dallas - 08-16-08
5.1.2008
2.1.2008
Latino Cultural Alliance,Inc. announces the opening of it's second office in Dallas!
1.11.2008
.: WRRD :.

Sabor Latino and Cristo "The Rock" friends,

We regret to inform you that WRRD AM540 will no longer be owned by Salem Communications (The Fish 105.3FM). The station has been sold. Our contracts are held under WRRD for both Sabor Latino and Cristo "The Rock". We are in the process of looking into alternative options for our shows and will be keeping you up to date on this website.

Sabor Latino now in its 5th year and Cristo "The Rock" approaching its one year anniversary on May 1, 2008 have really made a mark on our Latino community and it is our hope to remain doing so in year's to come. Thank you to all who have contributed to the success of our radio family!

Blessings,
Tina Elmergreen Founder/Director Latino Cultural Alliance, Inc.
10.3.2007






.: Alex Cuba in Concert! :.

Alex Cuba performing live at "Rumba"
Date: October 3, 2007
Where: 351 W. Hubbard St. Chicago, IL 60610
Time: 9:00pm
Admission: $15 at the door
or you can log onto:
for advanced ticket purchases at $10

Dime si despues
Vancouver Jazz Festival
8.25.2007
Franco De Vita on August 25th at the Rosemont Theater, Rosemont, Illinois.
Click on photo to see larger version!
7.7.2007
4.26.2007
Ricky Martin in Rosemont Illinios Wednesday, April 25, 2007 !
Click on photos for larger view.
3.29.2997
3.28.2997
March 28, 2007 Rey Ruiz in Chicago
Click on image for larger view!
3.27.2997

Click on image for larger view!



.: Salvador Live in Concert :.

It is that time of year again! Gray's Child Development Center has their annual "Bridging Faiths" concert scheduled for April 21st and we are bringing back "Salvador" !!! Salvador's new song "shine" is #7 on the charts and their name in the Christian music scene is one of the biggest around. See the flier to the left for more details or tune into The Fish 105.3FM. The Fish plays three Salvador hits in their regular rotation "Breathing Life", "How Far is Heaven" and "Shine".

See more of Salvador on YouTube by clicking here:
- Salvador performing "You are good" at the LifeLight Outdoor MusicFestival in Sioux Falls, SD: http://www.youtube.com/watch?v=5PTSfYvw6ps

- Salvador concert in Miami, FL.: http://www.youtube.com/watch?v=kjYsWDE3lvI

"Supernational" : http://www.youtube.com/watch?v=9telFniz414

The Word, 540AM commerical for Salvador
3.26.2997

Click on image for larger view!



.: Los Roba Corazones y Henry Santos (Aventura) :.

"Latino Cultural Alliance, Inc./Latin Music Fest" Present:

Hey Bachata fans…..don't miss this one! The new National sensation storming the country "LRC – Los Roba Corazones y Henry Santos! Henry Santos from Aventura has put together a Bachata group that is making headlines everywhere!
Date: April 3, 2007
Where: Fusion / 611 W. National Ave. Milwaukee, WI
Time: 9:00pm
Admission: $12

See more of Los Roba on YouTube by clicking here:
Los Roba Corazones Presiento Bachata: http://www.youtube.com/watch?v=5Tjlvhtq3k4

3.22.2007
Mana in concert at the Allstate Arena in Chicago on 3.22.2007
Click on image for larger view!
3.15 .2007
Spanish Harlem Orchestra at 2007 Chicago Salsa Congress
Click on image for larger view!
3.12.2007

Click on image for larger view!



.: "Lucybell", "El Guapo" & "Subatomico" Concert :.

The Latino Cultural Alliance, Inc., Latin Music Fest & Sabor Latino AM540 WRRD Present:

Live in Concert "Lucybell" direct from Chile with special guests Univision Recording Artists "El Guapo" & "Subatomico" from Chicago all in one intimate setting. Here is your chance to see "Lucybell" up close and personal!

When: April 13, 2007
Where: Fusion (the old Babalu) - 611 W. National Ave. Milwaukee, WI 53214
Time: 9:00pm Admission: - $15 *

Lucybell has agreed to sign autographs so bring your Lucybell cd's!

* Capacity is only 250 and you can only purchase your tickets at the door, so don't come late or you may not get in.

See more of Lucybell on YouTube by clicking here:
- Lucybell - Matazhttp://www.youtube.com/watch?v=kVF9RxaOOlU
- Lucybell en el Festival de Viña 2007: http://www.youtube.com/watch?v=Oh2kIma3eBs
3.1.2007

Click on image for larger view!

Hey Tiempo Libre Fans!

*Come check out one of the hottest two-time Grammy Nominated Timba groups around! World renown "Tiempo Libre" will be here in Milwaukee at the Latino Arts Auditorium.

When: Friday March 16th, 2007
Where: Latino Arts Auditorium Milwaukee, WI 53204
Time: 7:00pm
Tickets: Students: $10, Seniors: $15, Adults: $20

Call: 414-384-3100 to purchase tickets * Note: The Latino Arts Auditorium is a intimate venue and tickets are limited so don't delay.
2.11.2007
Victor Manuelle Valentine's Concert February 11, 2007 in Chicago
Click on image for larger view!
2.3.2007
| | |
| --- | --- |
| | Pedro Knight, Celia Cruz's Husband, Dies Knight passed away in an LA Hospital (CBS4) LOS ANGELES The widower of the Queen of Salsa Celia Cruz, Pedro Knight, has passed away, according to sources. Knight died in a Los Angeles hospital early Saturday morning. The cause of death has not been released. Knight, whose health had been deteriorating for some time, was 85 years old. Last March, Knight was hospitalized in L.A. for a series of strokes and also suffered from diabetes. Knight was a well-known Cuban-American musician but was probably more famous for being the husband of legendary singer Celia Cruz. She died of a brain tumor in 2003. |
2.2.2007


Click on image larger image!
San Francisco (California), USA - Six Degrees Records has announced the signing of Spanish Harlem Orchestra, whose third album, United We Swing, will be released on May 15, 2007 worldwide.

United We Swing is a collection of infectious Latin music from an all-star lineup of living legends. The new release follows the Grammy award-winning album, Across 110th St., which won for Best Salsa Album in 2004, and their 2002 Grammy nominated debut album, Un Gran Dia en el Barrio.

Directed by world-renowned pianist/arranger/producer Oscar Hernández, the 13 member Spanish Harlem Orchestra has established itself as standard bearers of contemporary Latin music. Using the most accomplished players in the New York Hispanic community, Hernández brings together an amalgamation of strong performances from Ray De La Paz, Willie Tórres, and Marco Bermúdez on vocals, with a handful of top musicians including John Walsh, Pete Nater, Jimmy Bosch, Dan Reagan, Mitch Frohman, Luisíto Quintero, George Delgado, Jorge Gonzalez, and Hector 'Maximo' Rodriguez. United We Swing was recorded in November 2006 in Englewood, NJ.

"I am excited and extremely proud of our third CD United We Swing," says Oscar Hernández. "The chemistry that Spanish Harlem Orchestra has achieved from performing and touring the last couple of years is reflected in the uncompromised musical excellence of this recording. Each individual musician has contributed to the hardcore swing we strive for as an ensemble. It is a great honor to have musical icon Paul Simon contribute his extraordinary talent to our sound with SHO."

United We Swing features 13 new songs including a special guest appearance by Paul Simon (Late In The Evening/Tarde En La Noche). Hernández built a strong relationship with Paul Simon after arranging and producing the music for his Broadway musical "The Capeman," which is based on the real life story of Salvador Agron. United We Swing is scheduled for release on May 15, 2007 on Six Degrees Records.
2.1.2006
| | |
| --- | --- |
| | Happy 1 Year Anniversary "Spanglish Magazine" !!! Thank you for what you do! www.gotspanglish.com ~Tina Elmergreen |
11.15.2006

Click on image for larger version!
Latino Cultural Alliance/dba "Latin Music Fest" presents an "Immigration Workshop" sponsored by Immigration Attorney John Sesini and North Shore Bank.


When: Thursday - December 14th - 2006
Where: Rice Palace Banquet Room 3730 W. National Ave. Milwaukee, WI 53215
Time: 6:30 - 8:30pm Admission - FREE
11.12.2006

Click on image for larger version!

.: Breakfast with Santa :.

Join us this year for BreakFast With Santa. This year, The Children Theatre of Wauwatosa will present "Heidi, the Musical".


When: December 16, 2 006
Time: 9:00 a.m. - 11:30 a.m.

Where: Humphrey Scottish Rite, 790 N. VanBuren, Milwaukee WI

Admission includes breakfast, a gift box and the musical.

Admission: $7.75 - Adults
$3.75 Children (ages 3-12)

RSVP & Advance Ticket Deadline: December 11, 2006.
11.2.2006
Twenty-one year old "Jessica Villalobos" is in desperate need of Bone Marrow and you or someone that you know may be able to help. If you are "Hispanic" or "Hispanic-Caucasian" mix please consider attending one of these testing dates starting this weekend.

You can save a life! Our Daughter Jessica was diagnosed with leukemia in April 2006, on her 21st birthday! She has been in treatment and doing pretty well until September when the cancer came back.

Now every 28 days she is in the hospital for 5 days of intensive chemo. She is in desperate need of a bone marrow transplant in order for her to survive. Jessica along with 30,000 children and adults are desperately looking for a bone marrow transplant. Because tissue type is inherited, patients are most likely to match someone of their same race and ethnicity. This is a big problem for us because, I am Caucasian and my husband is Hispanic, SO ~ this is a tough match to find.

We are asking people that are at least 18 years old and are Hispanic or Hispanic /Caucasian mix to help Jessica and possibly many others!! We will be testing on 3 different dates!! I hope you can make one! :~))

Friday 11/10 we will be on the South Side of Milwaukee...Please call for more info! Saturday 11/11 we will be in Brookfield 9 ~ noon 2955 Nassau Dr 53045! Saturday 11/18 we will be at the Executive Inn in Milwaukee ....Please call for time!

All it takes for the initial testing is to fill out a form to become a part of the national registry and swabbing the inside of your mouth with something that looks like a Q tip.

PLEASE RSVP AS WE NEED TO HAVE ENOUGH SUPPLIES 262-366-5609!! :~))) We will have food, bevie's and fun! :~) I know we will have a good time for a great cause!! There is an incredible need for any minority to get on the National Bone Marrow Donor Registry!! PLUS there is no cost for any minority to be tested at this point!! Thanks in advance ~

God Bless Linda and Franco Villalobos 262-780-1059 Home 262-366-5609 Cell
11.1.2006
| | |
| --- | --- |
| Click on image for PDF version! | Spanglish November 2006 has an article on Latin Music Fest an their director, Ms. Tina Elmergreen called "Faces de la Comunidad": Tina Elmergreen" |
9.6.2006
3 of 33 Billboards used in the 2006 Marketing Campaign.
8.12.2006
Backstage at the Juntos en Concierto concert in Chicago with Marc Anthony, Marco Antonio Solis and Laura Pausini.
| | | | |
| --- | --- | --- | --- |
| Tina & Marc's band | Lury "Cheeks" Chico & Ricky Gonzalez | Marco Antonio Solis | Marc Anthony thanking his crew for a great tour |
| Marc & Jennifer "JLO" Lopez | | | |
7.8.2006
July 8, 2006 - "Salsa @ Summerfest"

Back stage....
At the concert....
Click here to see photos from Victor Manuelle at 2006 Summerfest, July 8, 2006.
7.2.2006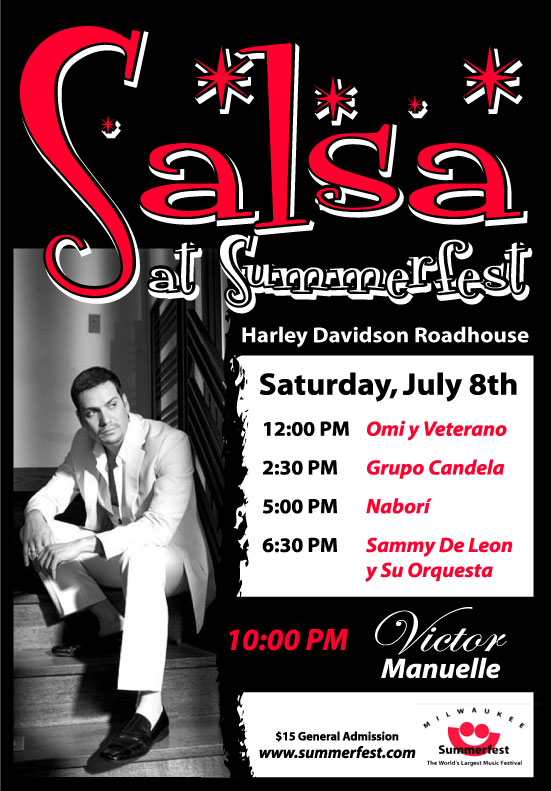 Summerfest is at it again! This year they've really outdone themselves and spoiled the Salsa lovers in Milwaukee rotten! Headliner "Victor Manuelle" takes the stage on July 8th! See the flier below for a complete listing of this year's line-up on the Harley-Davidson stage. For a info on all of Summerfest's performances this year, go to:

www.summerfest.com




6.27.2006
Merengue lover? Come out and see "The King of Merengue". LULAC Presents: Elvis Crespo this Thursday night at the Midwest Airline Center. 8PM - FREE ADMISSION. See this link for more details:

http://www.jsonline.com/story/index.aspx?id=443405 - PDF
6.23.2006
Michael Stuart in Chicago / June 23, 2006
4.15.2006
Click here to see Locos Por Juana photos from April 1, 2006 concert..
4.1.2006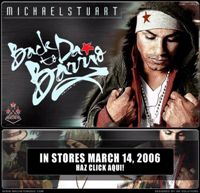 Check out Michael Stuart's new cd entitled: "Back to Da Barrio" in stores now. Click on the photo to go to the website to sample the CD.
3.26.2006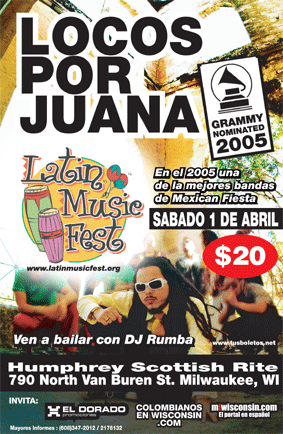 "Locos Por Juana" at Humphrey Scottish Rite on Saturday , April 1, 2006
Mark your calendars for this Saturday night, April 1, 2006! The Latin Music Fest, Inc. presents the first event of the year . Grammy Nominated "Locos Por Juana" will be live in concert at the Humphrey Scottish Rite downtown Milwaukee, WI located at: 790 N. Van Buren St.

Time: 9:30pm
Admission: $20
2.26.2006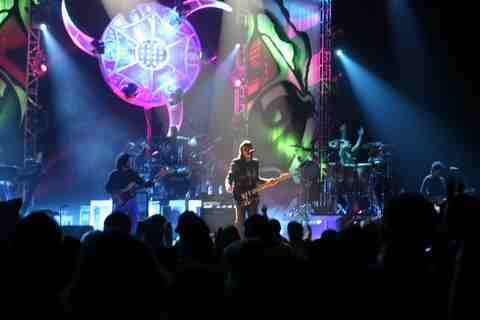 Click here to see Juanes photos from last nights concert.
2.10.2006
Hot off the press! "Juanes Auction" Your chance to sit in the front row at his February 25th concert and the opportunity to go back stage and meet him! Read on for more details or log onto www.latinmusicfest.org or tune into "Sabor Latino" AM540 on Sunday nights at 7:00pm. *tickets! *Also, tune into Telemundo starting this weekend, they will be giving away Juanes tickets .
2.9.2006
News Update: For those that missed the Grammy's on Wednesday night.....Tiempo Libre was nominated for a Grammy . Willy Chirino took the award. www.grammy.com. Tiempo Libre will be back in the Midwest next Saturday night, February 18th at the Hothouse in Chicago www.hothouse.net To see photos of Tiempo's last performance for the Latin Music Fest, Inc. click onto "photo gallery".
11.30.2005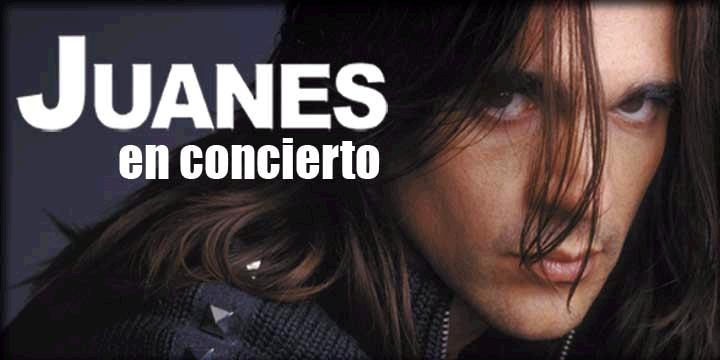 : : : Click here for more information : : :

Mark your calendars and kick off the new year with "Juanes" live in concert here in Milwaukee at our very own Milwaukee Theatre !!! * Tickets are on sale now at the Milwaukee Theatre box office or you can purchase tickets via Ticketmaster

When: February 25th at 8:00pm

( There will be no "opening act", so don't be late!)

* For more information: in2it international - 414-297-9050 or tune into "Sabor Latino AM540" every Sunday night from 7:00 until 8:00pm for more updates.
11.1.2005
Amateur shots taken by Tina" / October 2005 Luis Miguel Tour
9.15.2005
Article from MKEONLINE website on 2005 Latin Music Fest...."Music to their cultural ears" By Valerie Valentine

http://www.mkeonline.com/story.asp?id=355690
9.11.2005





Latin Music Fest Billboards around Milwaukee
8.31.2005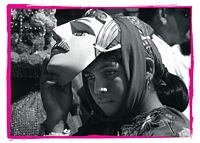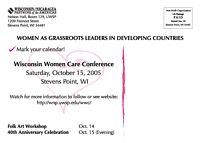 Wisconsin/Nicaragua Partners of the Americas and the Wisconsin Women Care Conference is sponsoring a Folk Art Workshop in Stevens Point on October 15, 2005. For more detail, go to website at: http://wnp.uwsp.edu/wwc. Click on images for larger view.
8.20.2005
Jorge Santana and a few Malo musicians, as part of there being here for the Saturday, August 27, 2005 concert, will be holding a small acoustic jam and book signing at the following places:
Saturday, August 27, at 4:00 p.m. at Guitar Center (17135 W. Bluemound, 262-797-6448)
Sunday, August 28, at 11:00 a.m. at Ruby's G's Espresso Bar & Cafe (2043 W. Wells, 414-933-2770)
8.3.2005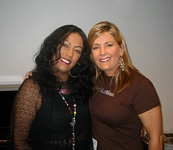 Tina with La India at Ravina. Interview on Sabor Latino.





8.1.2005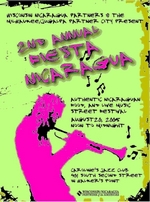 2nd Annual Fiesta Nicaragua
Announcing the 2nd Annual Fiesta Nicaragua, August 20, 2005, Noon to Midnight at Caroline's Jazz Club, 401 South 2nd Street, Walker's Point, Milwaukee

7.31.2005
Chicago Tribune 7-31-2005 review of Tiempo Libre
7.30.2005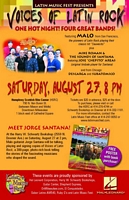 Announcing "Voices of Latin Rock":
"Voices of Latin Rock " (Click on the image to the left for larger version) is confirmed for August 27, Saturday night, at the Humphrey Scottish Rite Center in downtown Milwaukee, at 8:00 p.m. (near Cathedral Square) with multiple bands and the legendary, west coast Latin Rock pioneers, Malo headlining.

Harry W. Schwartz Book Shops will have a book signing at 2 pm, August 27th, at the Downer Ave. store. Co-author of the Hal Leonard book gutarist and founding member Jorge Santana will sign books. Jorge may play guitar, as well as CDs and read from the book. To read the book press release, click here!




7.26.2005
Sponsors for Program Book wanted:
Currently looking for sponsors of the 2005 Latin Music Fest. Please see the form on the Sponsor tab or click on the picture to the right for more details.





7.26.2005
Juan Carlos Formell, performed in Milwaukee on April 17, 2005, has released his newest album on August 2, 2005 on Narada. Please click on the image to the left to see a larger image. Click here to see photos of the concert on this site.

Also you can go to his website at http://juancarlosformell.com/ .
7.15.2005
2005 Latin Music Fest Flyer
Announcing (Click on the image to the left for larger version) the 3rd annual "Latin Music Fest".








7.1.2005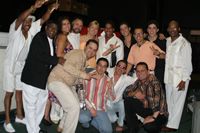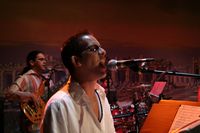 Photos of the Tiempo Libre Concert:
Photos for the Tiempo Libre June 24, 2005 concert are now in the Photo Gallery.
6.1.2005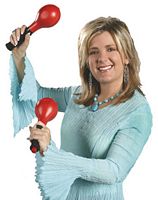 ¡AQUI! Milwaukee featured the Latin Music Fest in their June/July 2005 issue. Click here to view document in PDF format. For more information on ¡AQUI! Milwaukee, go to http://www.aquimilwaukee.com/